In the spirit of open source and transparency, we would like to share our ongoing thoughts for the future of our platform.
Last you heard from us, we had taken a long look at our modular platform for virtual and spatial collaboration, and found a shared passion: education. We weren't sure exactly how, but we wanted to become a platform for learning for everyone, especially people who can't reach educators as easily because of real-world distances.
In the months since, we've found that to sell a VR education package to schools, schools would want us to provide them with a complete curriculum, a complete solution for education in VR. However, our focus and expertise is building infrastructure, not content. Thus, for now, building a solution for schools is not something we can do right now, and not in the future either unless we can find a partner that builds content.
Instead, we decided to focus on a product first for VR workshops, then virtual offices, and only after that we can come back to education in a larger B2C push.
To elaborate on this strategy, we present our current iteration of our ten year commercial roadmap, as follows.
---
Background: a pandemic shifts the workspace priorities
May 2020 and Covid-19 is the centre of attention. Today (15.05.20), millions of people have been laid off globally in the last 3 months. (33million people have been let go in the USA this year).
Majority of companies with thousands of employees have decided to lockdown their offices and asked everyone to work from home. Supplying them with the necessary equipment to remain efficient, but that mainly applies to tech companies with strong developing teams able to deliver from any side of the world. Twitter announced on the 13th of May 2020 that all team members will have the possibility to work from home forever. The work place is changing from the impact of the covid-19 pandemic, and the decision power within organizations will be shifting into the hands of those who deliver the product: developers, designers and the product development teams. This major change in tech companies brings new challenges, especially on a cultural level. For the past 10 years, organizations such as Google or Facebook have been attracting the crème de la crème of candidates by offering perks never seen before, such as free lunches, free gym passes, etc.
Those perks enabled companies to keep their team members engaged and talking about their work dawn 'til dusk. However, with this also came the "open space office" which pleased some and stopped others from being focused. Therefore today, with the obligation to work from home, many programmers and employees are realizing how a mix of both working manners could be beneficial for the quality of their work. The remaining question for companies that have spent years and millions into entertaining and growing strong culture among their peers, is how will we keep everyone as engaged from a distance?
The next computer revolution
At Alloverse, we strongly believe that VR/AR will be the next computing revolution, the way the smartphone was in 2007, and graphical user interfaces was in 1985. As we move towards more automation and intelligent services to enable us to lead better lives and more efficient work days, VR/AR will also grow. In this pandemic, we are unable to run workshops, have conferences, or meeting in big groups. VR has been a no-brainer solution for these issues. For example, Laval VR Conference Summit showed more than 11'000 visitors. Companies have been able to reach 10x more people than if they had to hold a physical event and therefore, costs for the hosting company and all visitors fell to a minimum (no travel, hotel or living expenses).
We want to be at the fore-front of this revolution. Our long term mission is to become the standard for remote collaborate work and play, and the biggest open source and distributed collaborative spatial (AR and VR) computing platform.
Short term plan: Alloverse Workshops
By noticing those companies and initiatives' quick adaptive mindset, we decided to meet with some friends, owners of local SBEs in Stockholm: Beteendelabbet and Psykologifabriken. Both businesses run workshops for clients, and they're able to use video conferencing to shift their business to digital, but it's far from delivering the same experience. We have thus decided to partner up with them to offer them a VR space for workshops. This becomes our first stepping stone into the world of remote spatial collaboration, by providing easy to use, but also modular and powerful teaching work spaces in VR.
We start out building the rudimentary spatial apps needed to run a workshop, such as whiteboards, slide deck viewers, note taking apps etc. Both us and other developers can then use our open API to extend these workshop places with more and more advanced functionality, where in a year's time, you as a teacher can choose from a wide variety of tools to build the perfect teaching environment you need for your workshop.
We will monetize our Workshop Places as follows:
Pay as you Go model for individual Business Educators. Pay for compute power, individual subscriptions to apps, per seat, etc.
Standard workshop bundle package: a complete package to educators with everything they need to sell a VR workshop package to their customers.
Custom enterprise package: a larger deal where the details can be negotiated.
We will be launching our MVP end of July 2020 and testing our solution with both companies in August, in order to work on the product and start commercialising it at the end of 2020. We will get a feedback loop going to make sure that the Alloverse Workshops is capable to deliver up to the expectations of our friends and their clients. Once we have validated our product, we will move towards our next step.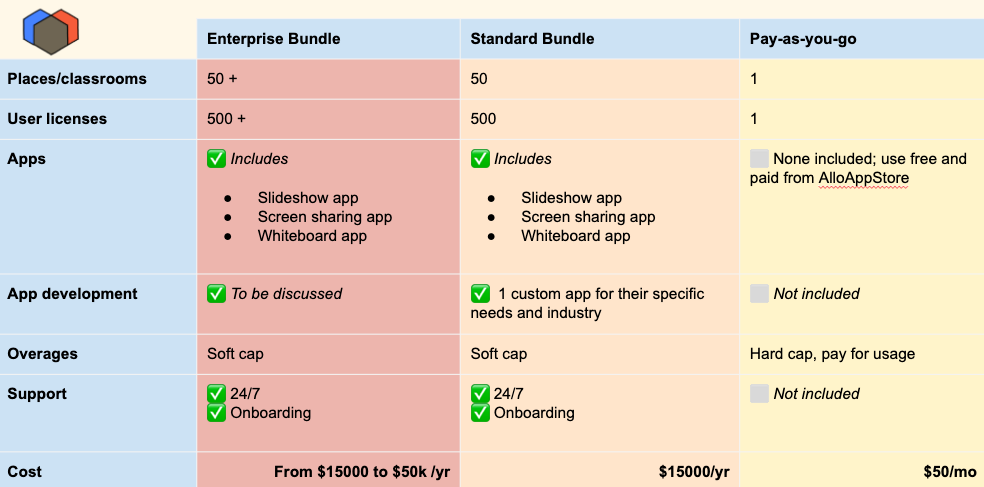 Side quest: A foundation for education
Alongside our commercial efforts, we will grow our Alloverse Foundation. The Foundation will supply headsets and virtual classrooms to public schools across the globe. We strongly believe that a democratised education system is part of the answer to make the world a better place. Therefore a percentage of each enterprise contracts will go into our foundation and support our efforts in financing hardware and development of immersive Virtual Classrooms.
Mid term plan: Alloverse Virtual Offices
In this step, we will offer remote teams to connect through VR and join meetings, run pair programming sessions, and socialize in a virtual office environment. Due to Alloverse's modular nature, we are able to use the same infrastructure as for Workshops to build modular offices, where every company can fit their virtual office with exactly the tools they need. With both VR and desktop apps, Alloverse can be running all day as a collaboration tool, and you can choose whether text and voice is enough for your work, or if you want to put on your headset and work as if side by side.
The development of this product starts in 2021 and until 2026. It targets mid to large size companies active in "easy industries" that we already understand and where we can use the tools we are already using for ourselves. Thus we start with Virtual Offices for Product Development, and then work ourselves up to more complex industries (Product; Design; Architecture; Industrial Design and Engineering; etc). Throughout, our app market grows organically with the addition of those various industries and respective needs. The monetization strategy is similar to before, but now with additional components.
Pay-as-you-go, workshop bundle and enterprise deals as before;
Virtual office bundle for each industry, providing everything a company in respective industry needs;
We start providing a native app store with payments and subscriptions, where we take a percentage of sales;
White label licensing for end-to-end solution providers.
Our ideal beta customer would be a mid-size company distributed like Twitter or Spotify. Remote teams test our environments by working in them, and in the meantime, they'll likely develop interesting applications for themselves in there, which enriches the our app ecosystem. We will introduce a VR/AR slack tool where we the community of developers aggregated will be able to share their thoughts and give us constructive feedback to improve our solution. By offering this solution to tech companies, not only will we support their efficiency but also, their internal culture. This will keep teams engaged and social. We can then also market our solution as an "efficiency tool, talent retention tool, culture bonding tool".
From 2020 to 2026, we will focus on a B2B model and cater to different industries across the globe. However, by then and when we will have a stable and viable Virtual Office environment aside our Workshop Alloverse place, Alloverse should be the first tool individuals think of when considering joining a collaborative VR/AR platform. Also, we can easily forecast that by 2026, VR/AR hardware will be of superior quality. It might be that we will be able to purchase glasses or even lenses delivering the same experience as Oculus Quest or Hololens today and among those improvements, price point may also be lower thanks to competition.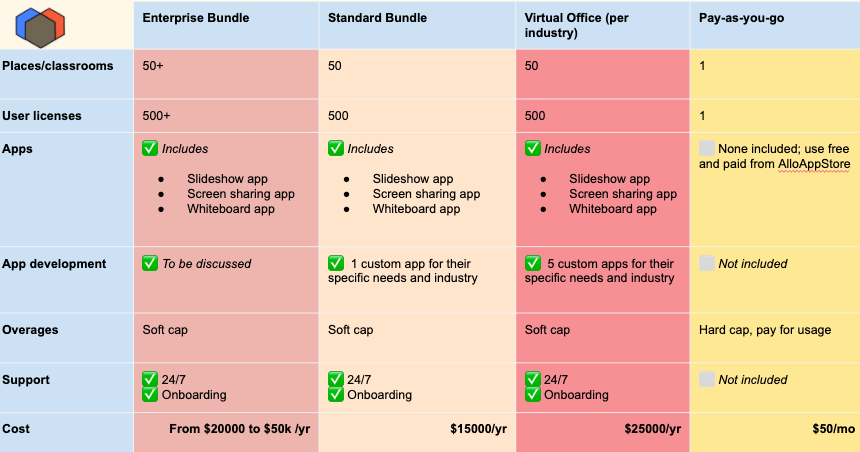 Long term plan: B2C
Those assumptions motivate us to work towards becoming a B2C company starting 2026 where we will offer a Spatial Social Network, using our app ecosystem to be the place to hang out, for work or for play, together with family, friends or colleagues. A place where eventually we could also democratize education by running classes with our app store. This is where our educational foundation can join with our mothership a life-encompassing virtual environment. The possibilities are endless in this model, just as they have become with the adoption of the smart phone.
We will monetise our Spatial Social Network by using a similar Pay as you Go model as for the Alloverse Workshop.