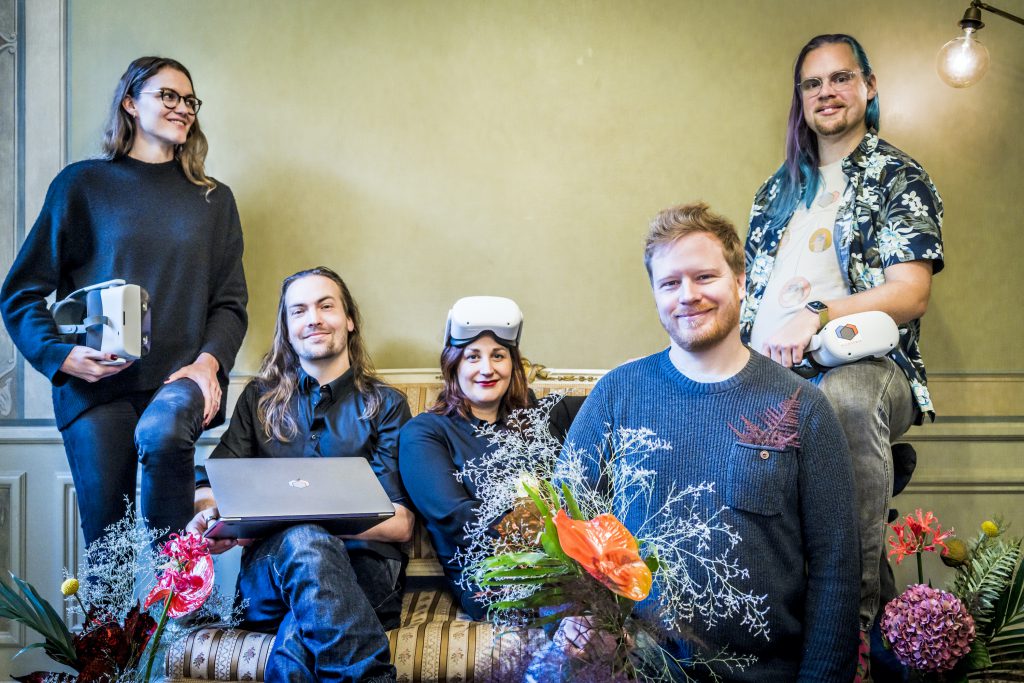 Alloverse, a Swedish VR startup developing an open-source platform for virtual collaboration, closed their pre-seed round with a €250k amount. Its ambitious mission of building the future of the 3D internet by keeping their technology open, and growing a global community of VR/AR enthusiasts shows that "sharing is caring" can make a difference.
The idea of the Alloverse sparked in Nevyn Bengtsson's mind in December 2016, when he realised that it was not possible to be productive in VR. One could play games, but there was no software infrastructure for building productivity apps. Two years later, whilst watching Oculus Connect 5 Keynote, Nevyn felt that humanity was on the cusp of a revolution. One where AR headsets could eventually replace smartphones; where 2D User Interface could take the place of text-based terminal interfaces, and 3D UIs replaced all every-day computing. This dream became reality in January 2020, when he joined forces with Julie Despraz, Tobias Kask, Patrik Sjöberg and Emma Koszinowski.
ABOUT THE TEAM
Nevyn Bengtsson, the founder, is one of the early employees at Spotify and co-founder of Lookback, a successful UX research company based in Sweden & San Francisco. As for the other four co-founders: the CEO Julie Despraz is the previous COO at Guestit and a serial entrepreneur building online & offline ventures in South Africa. Tobias Kask, a Silicon Valley startup- and remote work veteran with a background in UX development. Patrik Sjöberg, Spotify veteran and previous iOS consultant. Finally, Emma Koszinowski, a curious spirit with broad experience in the tech industry, recently a backend programmer at Viaplay.
The VR industry has exploded over the last 12 months, as people have been looking for new ways to divert themselves and discovered the power of immersive technologies. The adoption of it is poised not just to replace physical collaboration, but to improve on it. Current big players in the collaborative VR space such as Spatial, Glue and MeetinVR offer competent, polished applications for corporate training or meetings in VR. However, these solutions all share the common downside of being proprietary, meaning they are not only incompatible with each other, but also impossible to extend with custom components.
ABOUT THE INVESTMENT
Swedish VR startup Alloverse goes against common practices by developing an open architecture for all virtual collaboration. With it, corporations and individuals alike are empowered to create multi-user virtual places as well as 3D applications ("AlloApps") to furnish them.
The fledgling idea caught the eye of Nordic investor Icebreaker, and therefore the parties partnered up through a pre-seed investment in order to speed up the development of the project. This show of confidence implies that virtual collaboration – unrestrained by its participants' physical location – is indeed beginning to make the move into mainstream.
"With this pre-seed investment, we can now fully focus on product development and aggregate community activities towards building our ideal virtual office setup."
Julie Despraz, CEO, Alloverse
Additionally, the team is planting the seeds for the creation of a broad community of developers that share the vision of an open VR platform and a genuine excitement to explore the possibilities of human-computer interaction for the next generation.
"We are firm believers that AR and VR will grow in relevance outside of entertainment and that Alloverse will play a pivotal role in laying the foundation for this transition."
Leo Giertz, General Partner, Icebreaker.vc
Published by EU Startups